To grow fast and be successful,
you need to put your mundane daily operations on Auto-Pilot
LinkMyDeals automatically updates latest offers on your Coupon website/App with unique titles & descriptions. So you get all the time to focus on your growth strategies. See our short 2-minute video to learn more.
Real Time Feeds
Live Coupon Codes & Deals from 2000+ Ecommerce Stores.
Customized Data
Tailor-made Coupon Feeds with custom field names and data.
Incremental Feeds
Option to fetch changes since last extract. No need to refresh entire database.
Affiliate Deeplinks
Deeplinked URLs from top networks with your own Affiliate ID based on your preferences.
Cashback Compatible
Full support of Sub-IDs to run your Cashback Websites/App.
SEO Optimized
Unique text for each client. Rich content for higher ranks in SERPs.
Trusted by the Best
Our quality & accuracy is appreciated by some of the top brands around the world.





LinkMyDeals makes operating Coupon Websites much Simpler and Profitable.
What we do ...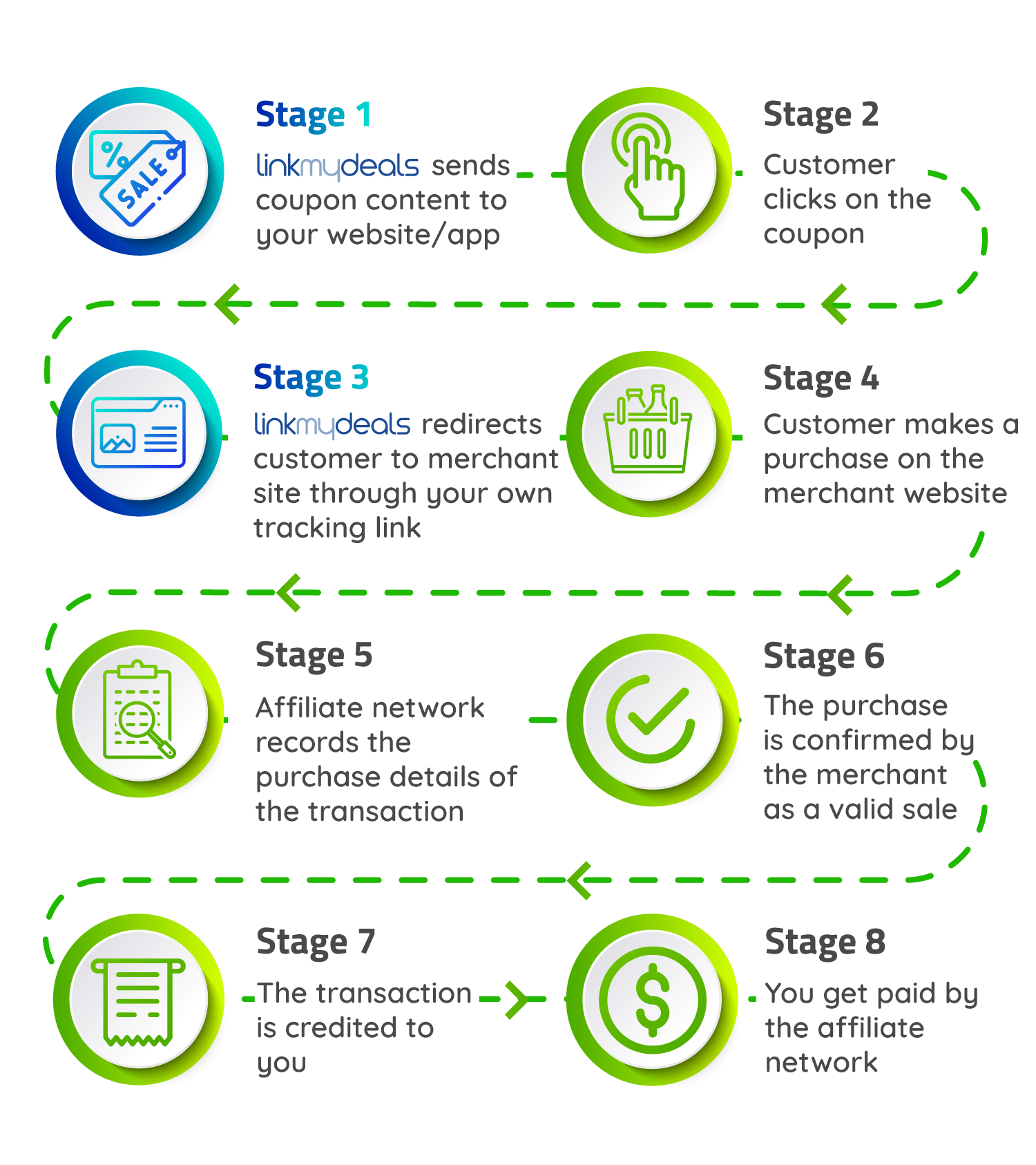 Here's how we do it ...
1. We

collect

Coupons & Deals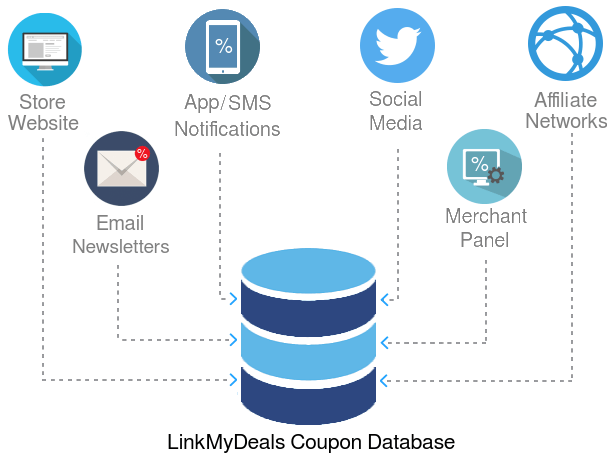 Coupon Codes and Deals are all over the internet. So we literally have to keep an eye on everything - Website Banners, Affiliate Networks, Email Newsletters, Social Media Ads, Display Ads, etc. We even provide a "Merchant Account" for stores to directly enter their offers in our feeds.
All this is updated in real time round the clock. That's 12,000+ Coupons and Deals, from 2000+ Online Stores. So say "NO!" to stale and invalid coupons. Subscribe to LinkMyDeals and see the difference.
2. We

process

the Coupons
Standardization

We normalize offers from different sources to a standard tone of writing, and also classify them according to standard categories. So your audience gets a uniform experience across your website.

SEO Uniqueness

We also rewrite each offer in upto 100 different ways, without changing the implied meaning. These texts are used in random combination for each of our customer to avoid duplicate content issues.

Verification

A lot of stores give out promotional offers without declaring any expiry date. We check the validity of such offers as frequently as twice a day. As soon as the offer expires, we suspend it in our database.
3. We

customize

feeds for everyone
We know every website is different, and so are their requirements. That is why we take customization to a whole new level.
We can set any rule-based customizations and filters. So you get your feeds with custom format, custom columns, customized data and just about everything as per your requirement.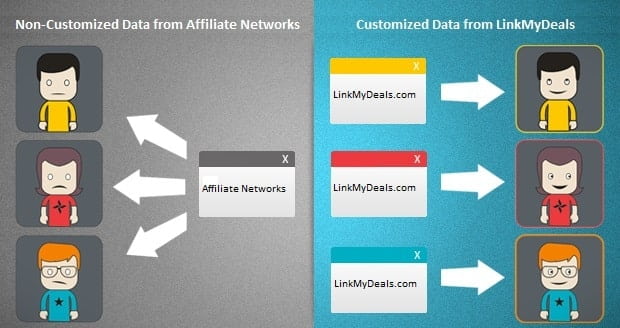 4. We

deliver

Coupons Feeds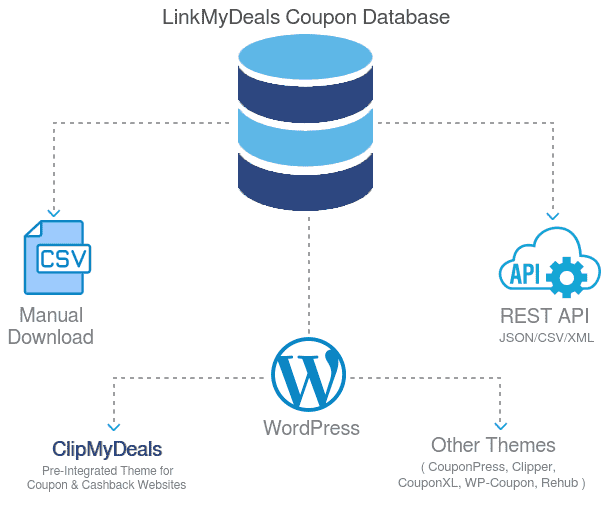 LinkMyDeals has a solution for all Coupon Websites, not matter what size or platform it is.
If you want to start a Coupon/Cashback website in less than 24 hours, you can simply buy ClipMyDeals WordPress Theme, which comes pre-integrated with our feeds.
For websites that are already running on any popular WordPress Coupon Themes, we provide ready-to-use WordPress Plugins to put it on Auto-Pilot.
And for custom websites/Apps, we have a robust (yet simple) Coupon API.
5. We

smartlink

your website
LinkMyDeals automatically Deeplinks and switches to the best available affiliate network for each store, based on the preferences you set in our panel.

The advantage of using our SmartLinks instead of Affiliate Networks' Deeplinks is that you don't need to update all your offers if you wish to switch your campaign to a different Affiliate Network. With SmartLinks, you can simply change your preferrence in our panel, and the SmartLink will now start redirecting to your new preference. Piece of Cake!
Even if the campaign for a store gets discontinued on the network of your choice, the links automatically redirect via the next best available network. This way, you get maximum monetization and ZERO downtime.
Ready to Get Started?
Setup an account in 3 minutes (or less)
Sign Up for FREE
Select a Free or Paid Plan
Don't have a website yet?
Buy ClipMyDeals WordPress Theme and start your Coupon/Cashback website in just 2 days!
FREE Mobile App
Easy to install and customize
100% WordPress
Pre-Integrated with LinkMyDeals Coupon Feeds
22 Preset Color Combinations
List+Grid Layouts
Printable Coupons
Location-based Offers
Mobile-First Design
Translation-ready and RTL Support
Social Media Optimized
Rich-content widets for SEO
Lifetime Updates & Support
2x your ROI with Accurate Coupons and 100% Auto-Pilot