It is the age of Start-ups & they are known for "jugaad" (makeshifters) and a lot of people have innovative products in their mind. With so many investors and government programs like Startup World, they are able to launch their products, sell them, and make money out of them.
But not all start-up ideas involve a product or a service that can be sold. Sometimes, it's a simple Website or an App that helps people in everyday lives. Something that is really helpful for the end user, but leaves an important question in the mind of its owner, "How can I earn money out of it?"
In comes, Affiliate Marketing! According to Wikipedia,
Affiliate marketing is a type of performance-based marketing in which a business rewards one or more affiliates for each visitor or customer brought by the affiliate's own marketing efforts.
Err.. let's throw all jargons away. I'll explain them in some time.
In simple words,
Affiliate Marketing is the act of selling/promoting someone else's product/service, and on every successful action (sale/install/registration/etc) you are paid some percentage as commission.
Is it same as Advertising?
Not exactly. Affiliate Marketing is about monetizing the core content of your Website/App. Affiliate Marketing is also called as 'Performance Marketing', which means you are paid based on the end result of user's action.
The most common example of Affiliate Marketing is a product review. Suppose you have a technology blog, on which you review the latest Mobiles and Laptops. Your frank reviews are the core content of your blog. With Affiliate Marketing, you can provide links from your review to the e-commerce website on which it is available for sale. And whenever a user clicks on your link, and purchases from the e-commerce store, you get a commission for that.
Parties involved
There are at least 2 parties involved here.
One is the 'Merchant' which is a store/website/company that sells the product.
And the other is an 'Affiliate' which is a person/website/company that sends traffic or leads to the Merchant.
However, it would be practically impossible for someone to become an Affiliate for each and every Merchant out there. Even if someone does that, recovering the commissions earned and maintaining the records will become extremely challenging in itself. So there is a third party in between, called the 'Affiliate Network'.
The task of an Affiliate Network is to contact and enlist all merchants who are interested in paying commissions. Affiliates can then join one or more such Affiliate Networks, who track the goals achieved and commissions earned. They also recover commissions from the merchants, and after deducting their fare share from it, give the remaining to the Affiliates.
Types of Affiliate Programs
There can be various user actions for which an affiliate can get paid. The most popular type of commissions are as below:
Cost Per Sale (CPS)

This is typically true about e-commerce websites, where the affiliate is paid based on the sales generated by the traffic coming from the affiliate website. The merchant can attribute sales based on one of the below methods:

Unique Coupon Code

A Merchant may give a unique coupon code to the Affiliate, which the Affiliate distributes to the user while promoting the product. If this coupon code is applied while making the purchase, the merchant attributes the sale to the respective affiliate.

Unique Link

In this case, a merchant provides a unique link to the affiliate. This link is used on the affiliate website. When a user clicks on the link, he/she is taken to the e-commerce website. At the same time, a cookie with the affiliate's ID is saved in the user's browser. The merchant decides the life of this cookie. It is generally kept in the user's browser for 30 days. If the user makes a purchase during this period, the sale is attributed to the affiliate.

Cost Per Lead (CPL)

This kind of affiliate campaign is usually carried by non-ecommerce merchants. Typical categories involve Banking & Finance companies, B2B merchants or any other purchase where direct online payment is not possible.

The affiliate sends the traffic to the landing page for such campaigns, where the user is required to fill a form. The affiliate is paid on the number of forms filled based on the merchant's terms & conditions.

Cost Per Click (CPC)

These campaigns do not involve many terms & conditions. They are generally offered to affiliates which have genuine traffic and on which the merchant has complete trust. There is no validation involved, and the affiliate is paid for every user he sends to the merchant's website using the affiliate link.
Tracking via Affiliate Networks
If an Affiliate Network is involved between the Affiliate and the Merchant, the Affiliate Network provides a 'Tracking URL' to the affiliate. The same cookie based tracking described above is followed here, but there are multiple levels.
When the user clicks the Tracking URL, the Affiliate Network records which Affiliate has sent this user and then quickly redirects to the merchant's website, which in turn records which Affiliate Network sent this user. On a successful sale/lead, the merchant passes the commission to Affiliate Network, which then passes on the partial commission to the affiliate.
Top websites in offering Affiliate Programs
Many e-commerce stores provide affiliate programs. They have their own tracking panel, and they provide various tools & resources for the affiliates. Some of the best affiliate programs are listed below:
Popular Affiliate Networks
Admitad
CJ
Awin
Shareasale
Selecting a Modus Operandi
So now that you know what Affiliate Marketing is, and how it works; I'm sure you're raring to hear the sweet $BLING$ $BLING$ sound. And so you need to decide what sort of website can you come up with. At this early stage, you will only get Cost Per Sale (CPS) campaigns. Below are some of the common approaches to generating sales and earning commissions:
Coupon & Deal Website

Thanks to LinkMyDeals, this has become the easiest way of earning commissions. You can simply purchase Coupons from us (see plans & pricing) and upload them into one of the ready-made WordPress Themes for Coupon Websites like ClipMyDeals, CouponPress, Clipper or CouponXL. And that's it, you have an up & running Coupon & Deal Website.

I'm planning to write a step-by-step guide on how to start a coupon website. So that will cover, things in details. Wait for it.

Product Review Website/Blog

Choose a niche that you love, and give your frank opinions about the new and popular products in that category. Once people realise that your reviews are helpful, your website will start getting popular. Once that happens, you will be treated like an authoritative blogger in your niche.

This is genuine affiliate marketing. You need to be passionate about what you are doing, and the money will just flow in by itself.

Product Collection

Having a website with your own collection of products can be a great way to make money with affiliate marketing. Unlike an e-commerce website, such a website will not have cart or payment gateway. The moment a user clicks on the 'Buy Now' button on any product page, he/she is taken to the merchant site via an affiliate link.

It is important that you keep a target audience in mind before making your collection. It should be something that people like (and Google should like it too). Try to cater to a particular demographic, age group or culture. You need to impress your audience with your choice and selection. That way they will come to you, instead of applying those filters on the merchant's site.
Selecting an Affiliate Campaign
Once you have your affiliate website ready you need to choose the affiliate programs that you want to work with. With so many affiliate networks and direct merchant programs available, this can be really confusing. But this is an important step. Consider the below points before choosing your partners.
Payouts

Different merchants can offer different payouts for similar campaigns. Even if you have finalized the merchant and the product, you will most probably get different payouts from different affiliate networks. Take this factor into consideration before you start your campaign. If there is a very high difference between the payouts, it can hugely affect your monthly commission.

Cookie Period

Visitors will come to your website and click on your links. But there is very little chance they will buy the product or fill the registration form right then. They might want to look at other options before finally taking an action.

Usually, the cookie periods for campaigns in range from 30-60 days. If the cookie period is too short, there are chances you will lose your commission, even though you had played an important role in convincing the user to buy that product.

First/Last Cookie

Many marketers neglect this factor while choosing their campaigns. This is because it only sounds like a technical difference to them. But this is not true.

If multiple affiliates have contributed to a single sale, the merchant will offer the commission to either the first or the last of them. It is important to clarify this policy with the merchant and adjust your tactics accordingly.

Payment Cycle & Threshold

Every affiliate program and affiliate network will have some policy regarding the payment cycle and the minimum amount that you can withdraw from your commissions.

Payment cycle ranges from 1 month to 3 months after your commission is approved by the merchant. The threshold that you need to withdraw your commission ranges from ₹1000-₹2000. Remember to check these details with your merchant or affiliate network.
Conclusion
Here's a nice flowchart from clickprefect.com that summarizes all that we have learned in this post.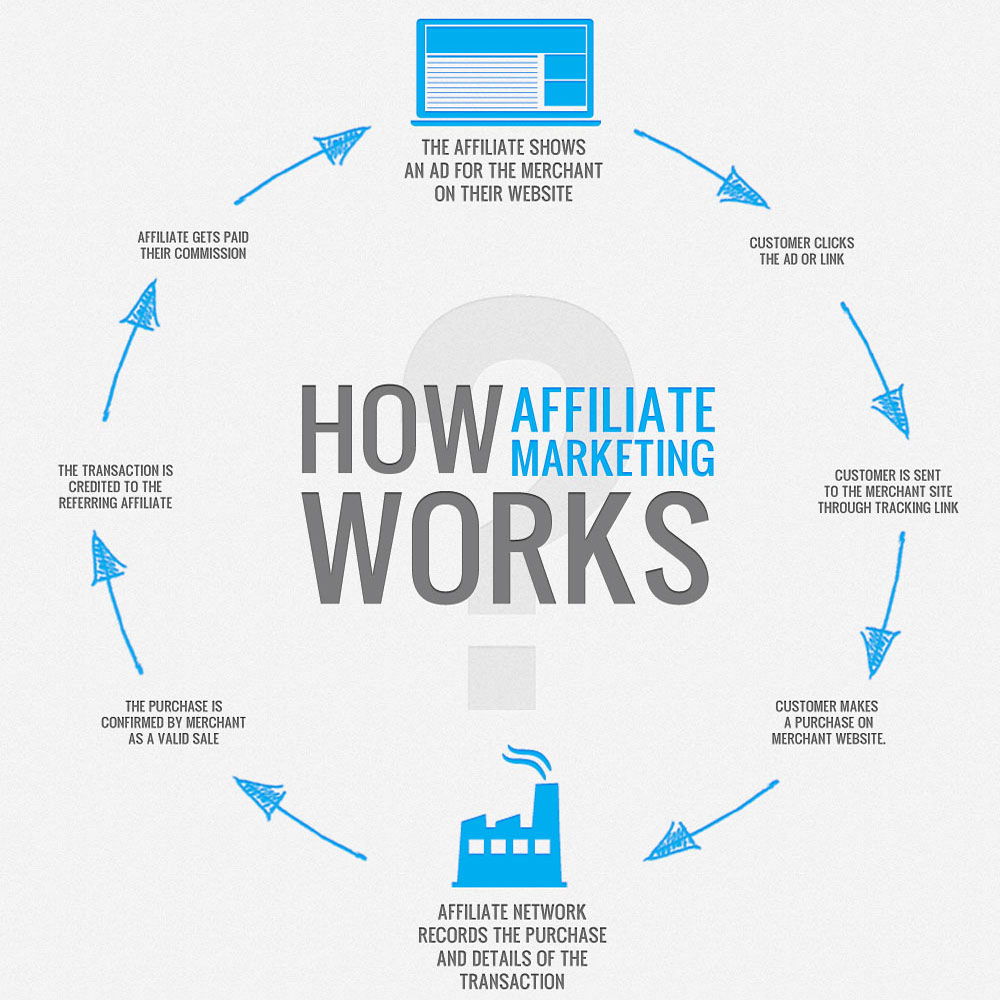 That's almost everything about Affiliate Marketing. Hope this has been beneficial to you. If you feel I've missed any important point, or you have any questions, let me know in the comments.
Happy Earnings!