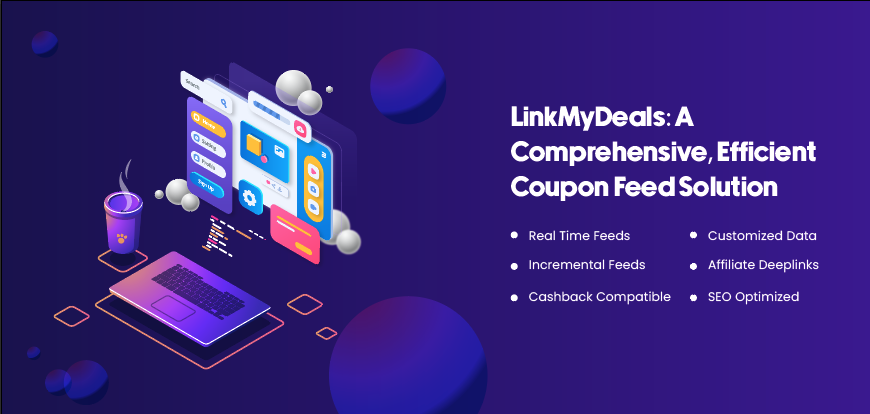 What is Affiliate Marketing?
Affiliate marketing may sound like a difficult thing to understand, but it is quite simple. It is an arrangement where a person or entity agrees to market a company's product for them. In exchange, the company agrees to pay them a portion of the proceeds they receive from each sale.
Let's understand that with an analogy. Say that Brand A wishes to market its products on social media. They partner with Affiliate Marketer B and ask this person to promote their products on their social media page.
Affiliate Marketer B then shares this product within his own network, bringing more sales for Brand A. Brand A then gives a percentage commission to Affiliate Marketer B for helping their products sell.
In a nutshell, affiliate marketing is the method to make money passively while others do your job for you. It can be an extremely lucrative way to create a revenue stream. However, there are certain nuances involved that you should consider before diving into it.
One of these nuances is working with data feeds. Let's understand all there is to know about data feeds and how affiliate marketers can benefit from a well-structured affiliate feed.
What Kind of Data Feeds do Affiliate Marketers Need?
Data feeds contain information about the promotions or products the affiliate marketer has agreed to market for a brand. The data comes in a spreadsheet or text format to help the marketer understand and process it better.
There are two major types of data feeds that affiliate marketers use:
Product feeds
Coupon feeds
Let's understand each one in a little more detail.
Product Feeds
Product feeds are information files that contain all the data pertaining to a product. These feeds may include information like:
Name of the product and its unique ID
Price of the product
Description and landing page details
UPC codes
Category and stock availability
Physical properties
Keywords
Technical specifications
Product feeds are used to provide affiliate marketers with enough information to promote your products.
Affiliates are free to peruse this information in any way they see fit for promotions. It is up to them to classify and categorize the products for marketing.
Coupon Feeds
Certain affiliate marketers do not directly market a brand's products. Instead, they are an aggregator for legitimate coupons that a brand floats as promotions.
Coupon feeds are thus a stream or files of data that contain information about a coupon, its code, what offer it is promoting, which products apply for it and which don't, its validity, and so on.
Coupon feeds are more complicated than product feeds because of the nature of the information they carry. As such, it is essential for affiliate marketers to partner with a robust, sorted coupon feed provider with useful affiliate tools to make things easier.
Challenges with Coupon Feeds
Coupon feeds are dynamic. Brand offers are constantly changing and updating based on consumer demand and response.
As such, as an affiliate marketer, it is essential for you to stay on top of it at all times. With that said, there are certain challenges associated with coupon feeds that you must navigate first:
Updating the Coupons
Each coupon has a validity period. Thus, you need to ascertain that each coupon that shows up on your feed is valid for at least a week for it to get noticed among the brand's customers.
When the volume of coupons you deal with is high, it gets difficult to keep your information updated. You may find it challenging to display the latest coupons without the right coupon feed tool.
Multiplicity of Sources
As a coupon affiliate marketer, it is your job to show the customers the latest coupons from thousands of websites and thousands of brands as well.
Collecting coupons from multiple sources can get extremely challenging and scattered if you don't have the right affiliate tools.
Coupon Poaching
Coupon poaching is a real problem that legitimate coupon affiliate marketers have to deal with. When a buyer is about to complete a purchase, they may likely look for last-minute coupons that they search for on the web.
The keywords then land them on coupon poaching websites that end up getting the commission for the sale instead of the affiliate.
Why Should You Optimize Your Affiliate Coupon Feed?
Coupon feed optimization helps your affiliate marketing program become that much more effective. Listed below are the three major reasons your business needs a coupon feed and why you should optimize it as soon as possible.
Coupon Comparison
As an affiliate marketer of coupons, you are in competition with many other coupon aggregators. How, then, do you differentiate your coupons from the rest?
You need a well-optimized coupon feed that lets you highlight the benefits of availing of the coupon from your website.
This can be done by accessing a well-structured coupon feed with all the necessary attributes and information you need to make it work.
Web Searches
A vast majority of users search for coupons on browsers. That makes it important for the coupons on your affiliate channel to be optimized for search engines as best as possible.
When you have access to an optimized coupon feed, you will be able to spot the necessary attributes like keywords and semantics easily. Optimized coupons appear more frequently in searches, increasing the chances of customers using them from your channels.
Additionally, paid searches involve bidding for web search real estate around the top, which makes it necessary to have access to a well-optimized coupon feed.
Stay Updated
Coupons only make sense when there is enough validity available when a user decides to use them. With thousands of brands and retailers, monitoring the validity and details of every coupon is a chore.
However, when a coupon feed is structured well, you can easily check and recheck all the attributes of any coupon.
Coupon feed services like LinkMyDeals provide an updated, sorted, optimized coupon list to affiliates, making it easier for them to manipulate their marketing strategies.
Let's see how your brand can benefit from partnering with LinkMyDeals for coupon feeds.
LinkMyDeals: A Comprehensive, Efficient Coupon Feed Solution
When it comes to getting access to accurate coupon feeds, there is little competition to LinkMyDeals. The feature stack includes functionalities like automated title and description generation so that you can focus on strategizing for growth.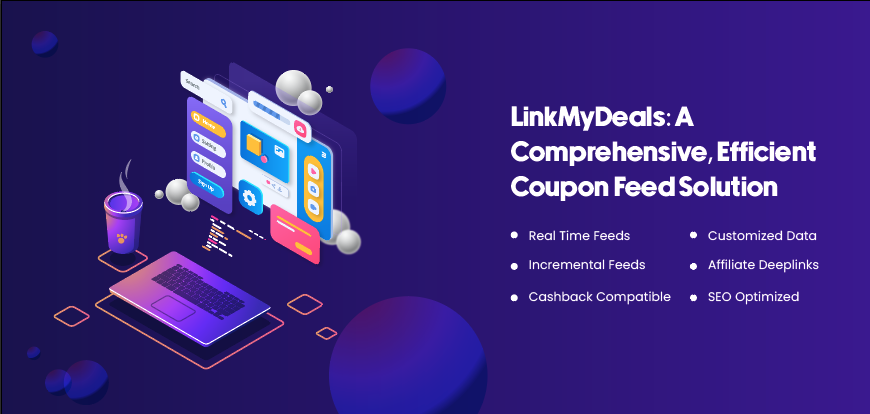 Let's take a look at these features in some detail.
1. Real Time Feeds
LinkMyDeals provides you with real-time data from over 2,000 eCommerce stores. This is an extremely important feature as it enables your affiliate channel to stay updated in real time with the latest offers from brands and eCommerce stores.
You can stay ahead of coupon poachers and competitors with feeds that update as soon as a new coupon is launched. It also helps your coupon marketing gain the trust of the loyal buyers who access your website.
2. Customized Data
Each affiliate marketer has their own strategies to market the coupons they receive. Depending on this, the coupon feed needs to be customized so that the necessary data can be identified and used at a glance.
Keeping that in mind, LinkMyDeals provide customized coupon feeds that contain custom field names and data, allowing you to make the coupon feed your own.
This functionality comes in handy when you don't have to deal with the information you don't actually need.
3. Incremental Feeds
Not all the coupons on the list you acquire update at the same time. Every coupon has its own timeline and updates. This necessitates updating the entire list every once in a while to provide the customers with the latest offers.
To that end, LinkMyDeals has the Incremental Feeds feature, which allows you to update your list with only the changes since the last extract. There is no need for you to refresh the entire coupon database again and again.
4. Affiliate Deeplinks
Deeplinks are URLs that direct the user to a specific webpage when they are clicked instead of redirecting to a brand or a merchant's homepage.
For affiliate marketing, deeplinks provide the benefits of enhanced user experience and better customer retention. It also helps to strengthen the marketing campaign by reducing the number of clicks a user has to make.
With LinkMyDeals, affiliate marketers get the deeplink benefit with their own affiliate ID and preferences.
5. Cashback Compatible
Marketing campaigns are only as effective as the data that they build on. It is essential to know the attributes of your consumers and target audience to give them a great user experience or to enable certain shopping features such as cashbacks.
This can be done by using SubIDs. Sub IDs by LinkMyDeals are alphanumeric codes that are user-derived and appended in the URL that help marketers gain information about the customer.
6. SEO Optimized
In affiliate coupon marketing, everything depends on a robust search engine optimization strategy and ranking on the web results. This can happen only when the coupon feed is optimized for search engines and has the right keywords needed to rank higher.
LinkMyDeals provides you with SEO-optimized text for each client that you have. The auto-generated content is rich in relevance and keywords, enabling you to derive the best results from coupon marketing strategies.
How LinkMyDeals Works
LinkMyDeals has a simple workflow that affiliate marketers can easily understand. They help your affiliate marketing channels become lucrative in a relatively shorter timeframe. Here is how it all works.
Collect
LinkMyDeals operates a coupon database that is fed with real-time and updated information about coupons. The sources are multiple – website banners, email, social media, display ads, affiliate networks, and more.
In order to ensure that marketers get access only to the most authentic and latest coupons, LinkMyDeals even provides dedicated merchant accounts. Merchants can log into these accounts and directly enter the latest coupon information into the database.
With LinkMyDeals, you get over 12,000 deals and coupons from over 2,000 online stores.
Collate and Process
The second step in the LinkMyDeals coupon feed generation is the collation and processing of the received data. This is achieved in three distinct steps:
Standardization
The data received is from disparate sources and thus follows different formats. LinkMyDeals thus standardizes the information and segregates and classifies it so that it is easily customizable.
SEO
LinkMyDeals pays special attention to SEO since it is the most important aspect of coupon affiliate marketing. Each copy is written in up to a hundred different ways ensuring that the implied meaning is the same.
Verification
It often happens that eCommerce stores float coupons without an expiration date. This can be a problem for the affiliate marketer. LinkMyDeals checks the validity and attributes of each coupon at least twice a day.
Customize
Each affiliate coupon marketer has a different website with a different structure and format requirements.
The best part about LinkMyDeals is that the coupon feeds they provide can be customized on request, depending on the website's requirements. You can get a custom format, columns, data customization, and much more.
Deliver
It is as essential to get your coupon theme up and running as it is to customize the coupon data for every client.
With that in mind, LinkMyDeals has the capability to deliver a cashback or coupon website within 24 hours. All you have to do is download and install the ClipMyDeals theme for WordPress. The coupon feed is integrated into it already.
Smartlink
One of the most handy features that LinkMyDeals provide to affiliate marketers is the capability to switch between affiliate networks without having to update the coupons.
The Smartlinks feature allows you to do just that while automatically updating the redirect information according to the network preferences that you have specified on the control panel.
Wrapping Up
Affiliate coupon marketing is a great way to grow a brand. It is also an excellent way to generate a revenue stream where much of the work happens in the background.
With LinkMyDeals, your affiliate channels can gain the traction they need to take profits and revenue to the next level.
To know more about LinkMyDeals and how we can help your affiliate coupon marketing, Start a Free Account Today.