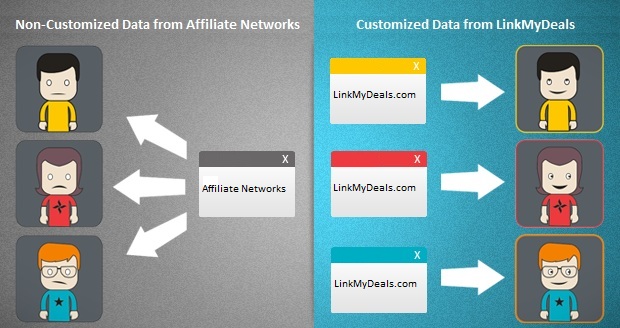 Have you been experiencing below issues from your existing offer sources?
Irregular title & description lengths.
Unwanted use of capital letters.
No standard date format.
No direct integration help.
No scope for adding your brand name in offers.
Get rid of such issues arising from affiliate network & store communications. Simply keep your one point source of data as LinkMyDeals.com and get assured help on any automated customization. Some of our tailor made offerings includes:
Short Or Long Titles: We understand that depending on your website / app layout, such as 'grid' or 'list' you may require titles of shorter or longer in length respectively.
Custom lines in offers: Based on your instructions, we can automate a process to randomly add lines such as "Valid through <your brand_name> only".
Image URL / ID: For those who use custom themes, LinkMyDeals can include custom field in your feed to accommodate your image URLs or IDs of store logos.
Lastly, be assured, that we can have all kinds of automated customization for you, so that your feed is perfect, every-time.
For your custom requirement, feel free to drop a mail on contact@linkmydeals.com.