While we collect offers from around the web, we come across many good (and not so good products). It is very tempting to look more into those products but over the years we have learnt to ignore this temptation and continue with our routine.
But this time around I noticed a product on Amazon that keeps going out of stock every now and then. I later realized it is selling like hot cakes with some pretty impressive reviews. I bought it ASAP and loved it.
So, here's me – promoting that awesome Neck Massager to you guys. Let's see how many of you go ahead and buy it. Needless to say, it contains an affiliate link. And as an Amazon Associate, I earn from qualifying purchases 😉
I spend significant hours in front of my computer and hunching over my smartphone. Neck pain and tension were daily inconveniences I wished I could dispense with.
And then I found this incredibly effective Neck Massager – a cutting-edge gadget that effortlessly alleviates deep-seated neck pains, and considerably easing out stiffness and other discomfort associated with prolonged and improper posture.
In contrast to traditional neck massaging methods, this neck massager employs modern electronic technology to mimic a variety of soothing massages. What does this mean? It means that it can delve three layers deep from your neck muscles to your blood vessels and nerves, substantially relaxing your tissues and releasing any form of muscle tension affecting you.
But that's not all! With an impressive 15-levels of intensity for you to choose from, you are in complete control. Tailor the treatment to suit your needs. We recommend beginners start their journey of rejuvenation with the lowest intensity, though. Just press and hold the switch button for two seconds to kickstart the magic.
It additionally features a unique U-Shaped elastic design, fitted neatly for different neck sizes and curves. And, the deal gets sweeter with a steady 107.6°F constant temperature heating. It genuinely mimics a hot compress around your neck, not just simulating a genuinely comforting massage experience, but also helping to improve blood circulation within the neck region. All these combine to enhance the overall massage effect, thereby relieving you of all the pain and muscle tension.
Oh, and don't worry about battery life! This Neck Massager proudly totes a 400mAh rechargeable photosensitive battery. With a mere 60 minutes of charging, I got a whopping 120 minutes of tender love and care from this device when using the heating function, and a staggering 300 minutes without using the heating function! And at a mere weight of 0.5lbs, I can carry it around with me without any unnecessary bulk. Plus, it shuts off automatically after every 15 minutes of use, ensuring it lasts even longer.
Having said that, this neck massager makes use of the low-frequency electronic pulse therapy. And so you might initially feel a minor electric shock – but this is normal. It's noteworthy, however, that you should not use this massager if you have pacemakers or any metal implants in your body.
So here's the link to buy my fav Neck Massager from Amazon:
https://www.amazon.com/promocode/A2SFQC1ORVN99N?tag=onecode-20&ascsubtag=bing
You can use a coupon code "707CIOUZ" to get additional discount. Although I am not sure how long this code will work, I would still want you all to try this product. It is that awesome!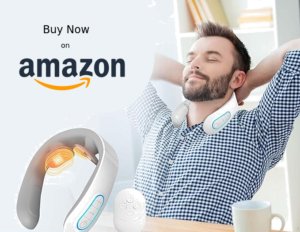 Embrace this game-changing relaxation companion. Because everyone deserves their personal therapeutic indulgence at their convenience… even at home.