Introduction
Are you considering launching your coupon website this festive season or seeking to elevate your existing one? Well, you're in luck. In this review, we've carefully curated the top 6 WordPress coupon themes, and we're going to evaluate them based on a range of criteria, from their eye-catching front-end designs to the quality of their customer support.
WordPress offers a multitude of coupon themes for creating your website. However, only a select few truly shine when you're aiming to build an 'enterprise-level website' rather than a simple college project. An 'enterprise-level website' should boast practical features that align with industry standards and streamline your website's day-to-day operations. In essence, a coupon theme should enhance your back-end operations, not complicate them.
From our practical experience and word-of-mouth, we have shortlisted the below lineup of the best WordPress coupon themes on the market:
By the way, we have already developed LinkMyDeals plugins for theme themes, to ensure that you do not have to do mundane tasks of updating coupons manually. Register in LinkMyDeals.com and automate your website with the latest coupons with your own affiliate links
In our guide, you'll learn everything about these themes down to the nitty-gritty details, so that you can make a well-informed decision.
Without further ado, let's dive in!
WordPress Coupon Theme Ratings on Practical Parameters
Theme Functionalities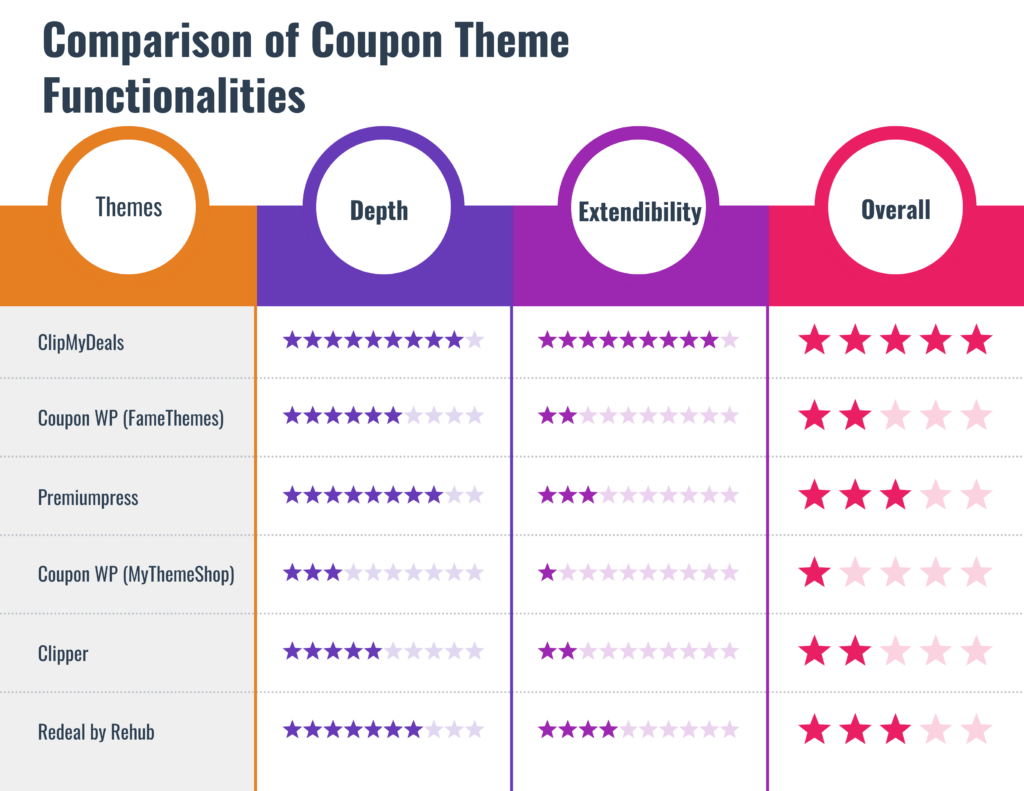 See Appendix 1 at the end of this article for the entire list of features we have rated themes on.
When it comes to going beyond the basics, we face some stiff competition because most themes offer similar features. However, if you're looking for a theme that truly stands out in terms of expandability, 'ClipMyDeals' takes the crown. With its array of Apps, Browser Extensions, Product & Cashback plugins, you can significantly broaden the horizons of your affiliate marketing efforts and deliver added value to your site's visitors.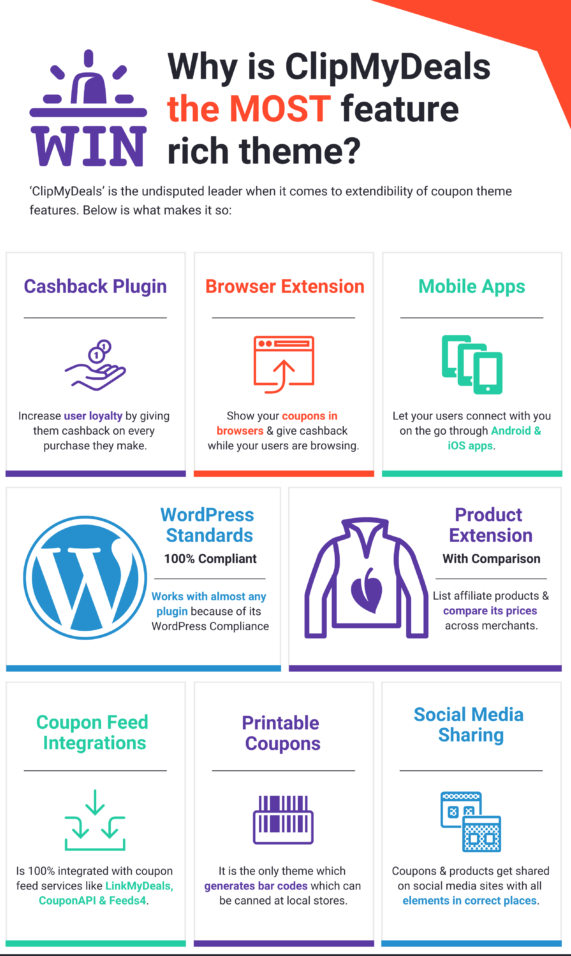 Further, ClipMyDeals also leads this space because it is 100% WordPress compliant – unlike almost all other themes which have built functionalities outside of WordPress' framework. This WordPress compliance helps ClipMyDeals to be extendable with huge collection of plugins. So one may add social media login for users or may customize the looks of admin area by using plugins – even though the theme itself may not have such feature.
Looks
When it comes to evaluating 'looks' our team of experts has identified ten critical parameters that significantly impact the user experience.
See the full list of parameters in Appendix 2 at the end of this article.
Visual appeal is inherently subjective, as it varies from person to person, with some preferring an elegant design and others leaning toward a more vibrant and unconventional look. To maintain objectivity, we've chosen the most commonly accepted parameters that UI and SEO experts consider as 'must-haves.'
In conclusion, we found that:
ClipMyDeals is a 100% responsive theme. You can utilize list layout, a 2-column grid, or a 3-column grid in it and can also choose from 25 unique color combinations. It makes good use of shadows and curves giving a clean & professional look. It does match to nearly 85% of our criteria.
While with FameThemes, you get a classic and elegant design that makes it simple for your audience to find coupons. There aren't many coloring options and styling options in this theme but it will work if you like to use things 'as it is'. Overall we would say a 20% efficiency in looks for this.
As for Premiumpress & Redeal (Rehub), it indeed has lots of customization and styling options. You get lots of customization options in back-end, from the overall theme to individual pages. You can also utilize pre-made templates to start off. However one important feature it misses out on is grid layout of coupons; thus making browsing difficult on store and category pages where there are many offers listed. So with scope of improvement in coupon layouts, we keep these themes at 80% & 75% satisfaction levels respectively in terms of 'looks'.
We have rated MyThemeShop at 45% because it scores well when basic structure and layout. However it has serious problems when we see it from micro level. It not only misses on grid layout of coupons but also does not have any home page layout except with slider. Further on coupon level there is absolutely no design element – all coupons are plainly listed in white background.
Clipper stands at 15% as the design is simple but looks a bit dated. You can choose between only five basic color schemes to start off.
Ease of Installation & Setup
In this section we searched for answers of two important processes:
How easy it is to make the theme look like 'demo' websites?
How easy it is to customize the basic elements in theme?
When it comes to setting up and getting started, you'll find that most themes offer a quick and well-documented installation process, often accompanied by helpful video tutorials. These resources typically cover everything from the initial theme installation to basic customization, which doesn't require any coding skills.
However, in our quest to distinguish the themes, we've identified several key differentiators, which you can find in Appendix 3 at the end of this article.
It's worth noting that nearly all of the themes we've evaluated here require no coding expertise. They come equipped with user-friendly features like one-click setup, demo imports, bulk import options, and robust support platforms. While they share these common attributes, there are some noteworthy points of differentiation to consider
Only ClipMyDeals and Premiumpress have an option of assisted setup. So in these two themes, you can hand over your theme license and hosting details to their own team and they will take care of installation.
Redeal is a child theme itself. While Premiumpress gives different layout as child theme. Hence both these themes cannot sustain your code customization during updates. All your code customization will be wiped out while you use these child themes.
All themes have bulk coupon import. But only ClipMyDeals has a bulk update and bulk suspend CSV formats for coupons. This gives a unique edge to ClipMyDeals theme in this highly competitive area.
After Sales Service Comparison
Here's a direct comparison of themes in terms of after-sales support, updates, and refunds. For most statistics, we've gathered data from each theme's official website, while some insights are derived from customer feedback. We aim to continuously update this information with more recent data
| | | | | | | |
| --- | --- | --- | --- | --- | --- | --- |
| Features | ClipMyDeals | Premiumpress | Redeal (Rehub) | MyThemeShop | FameThemes | Clipper |
| Support | Lifetime | 6 Months | 6 Months | 12 months | 12 months | 12 months |
| Updates | Lifetime | 6 Months | Lifetime | 12 months | 12 months | 12 months |
| Refund Max Time | 180 Days | 10 Days | 14 Days | 30 Days | 15 Days | None |
| Support Platform | Ticket | Forum & Ticket | Ticket | Forum | Ticket | Forum |
| Theme Update Frequency | Twice a month | Once a Month | Thrice a month | Rarely | Rarely | Rarely |
Comparing after sales service of coupon themes
So, Which is the Best Coupon Theme?
Well, finding a one-size-fits-all answer to this question isn't straightforward. Each theme comes with its unique set of advantages and drawbacks. For instance, if you're keen on having mobile phone apps, your best bet is ClipMyDeals. On the other hand, if you require paid membership logins, themes like Premiumpress' coupon theme might be your primary options. It's clear that there's no universal solution.
However, as we wrap up this comparison, we aim to provide general conclusions based on the typical preferences and needs of most theme buyers.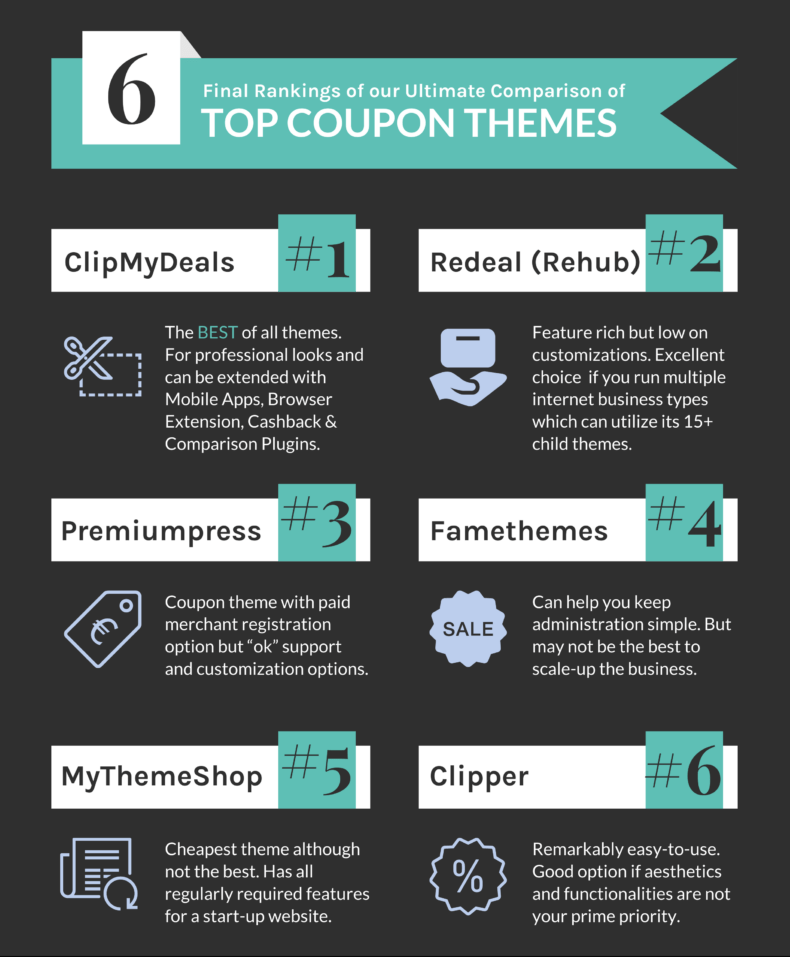 Conclusion – Best Coupon Themes
This theme beats others on all almost every parameter possible. So this becomes the BEST and the most professionally designed theme with most practical features required in starting a coupon website.
Rank #2 – Redeal by Rehub
A distant second, but has a lot of inbuilt customization options – may be because it is equally difficult to code and do customizations in it. Rehub has lots of child themes with varied functionalities like Ecommerce, Directory Listing, Comparison, Multi-vendor website etc. So may be if we would have measured for 'best business theme', Rehub would have ranked better. But when we measured for 'best coupon theme' it surely stands second.
Rank #3 – Coupon Theme by Premiumpress
This is a close third. Had it not been for few minor functionalities listed earlier, this would have been our second choice. But we had to take a tough call and place it at third position instead. If you have a huge on-field sales team to get local stores on-board and if you have a significant local traffic (at city level) then this theme can do wonders for you.
Rank #4 – Coupon WP by Famethemes
Simple, straight-forward and easy to manage. Best to be used as it is with least customizations. There is great deal of depth in its functionalities but lacks on extendibility, looks, setup and customization options.
Rank #5 – Coupon WP by MyThemeShop
Cheapest option (just $35) and has some nulled versions too, which are obviously not recommended if you want to fully utilize its worth. It can be easily bought and setup but can make your day to day tasks difficult. It doesn't go along with many other external affiliate marketing tools, yet is a close competition to Rank #4 theme due to its elaborate video documentation and support.
Rank #6 – Clipper by Appthemes
Note that this may be the last in our theme but it is better than many others – as we have compared only the top 6 themes in market in this article. So it is still better than themes like CouponXL, CouponXxL, Couponer, Couponis, Kupon etc. It perfectly goes along with WordPress standards and hence is simple to manage. But it looks a little old school and has only basic features (no advance features and augmentation).
---
Appendix 1 – Parameters used in measurement of depth & extendibility in features
Theme functionalities can be looked at in two dimensions: Extendibility and Depth.
Extendibility relates to how easy it is to extend the base coupon theme with add-on functionalities. It typically covers:
| | |
| --- | --- |
| Features | Points |
| Availability of Android app | 1 |
| Availability of iOS app | 1 |
| Availability of browser extension | 2 |
| Addition of cashback module | 2 |
| Addition of product listing & price comparison module | 1 |
| Compatibility with Woocommerce / coupon purchase module | 1 |
| Merchant paid membership module | 1 |
| WordPress compliance – which defines compliance with other plugins | 1 |
Parameters to measure extendibility of coupon themes
Depth relates to the accuracy and flexibility of core coupon theme features. Such as:
| | |
| --- | --- |
| Features | Points |
| Having bulk import functionality to upload coupons | 0.5 |
| Translation readiness | 1 |
| Affiliate URL cloaking | 0.5 |
| Location taxonomy | 0.5 |
| Theme structure with stores & categories | 0.5 |
| Acceptance of external image URLs | 1 |
| Submit a coupon page | 1 |
| Third Party Integrations – Social Media Logins, Popular Page Builders etc. | 1 |
| Coupon usage & working counter | 1 |
| RTL language support | 1 |
| Coupon feed integrations | 1 |
| Listing of Printable Coupons | 1 |
Parameters to measure depth in features of coupon themes
---
Appendix 2 – Parameters used in measurement of looks
Available coupon types – Grid / List
Possibility of adding images to coupons
Home page options – Static / With Slider / With Search Bar / With Video
Availability of preset color combinations
Number of coupons in first fold of screen
Information captured within each coupon box
Font Sizes
Coloring options for coupons
Responsiveness to different screen sizes
Use of curves and shadows
---
Appendix 3 – Parameters used in measurement of ease in installation & setup
Assisted Installation & Setup (even if paid option)
Depth of video tutorials
Availability of demo content
Availability of one-click setup
Support platform
Possibility of making a child theme
Level of coding skills required
Level of WordPress know-how required
Ease of importing coupons & affiliate links
Ease of implementing theme updates