Be it store description, blog or coupon-feed, copying content from other competitors or related websites can be lethal. In this blog we aim to cover:
What can copied content do to you?
How LinkMyDeals gives unique content to each of its clients.
How Search Engines Work to Identify Original Content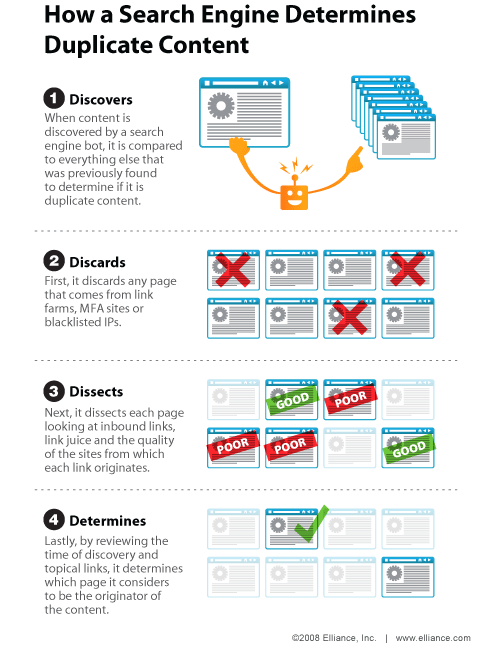 Copied content can be in various forms, such as data literally copy-pasted, written material scrapped by robots, information leaked via insider etc. Each of them is equally dangerous when it comes to long-term sustainable of a business or website.
Following are few of the possible implications it may result into:
Legal Penalty
Almost every website nowadays has their legal protection ready in the form of "Terms of Use" and "Privacy Policy". These legal documents, in most cases, cover all aspects of copying such as cutting, copying, distributing, modifying, recreating, reverse engineering, disseminate post, publishing or creating derivative works from any content or information or software obtained from the website. Hence, replicating content may attract legal penalties under various acts, most notably the Copyright Act.
SEO Penalty
All major search engines like Google, Yahoo & Bing recognize the importance of genuine, original and unique content. Replicating content can result in penalties from these search engines. This way, you will never be able to rank well. Also, it will make AdWords and other services much more expensive for you.
Reduction in User Loyalty
Once your users come to know that you have a copied content it will have a huge impact on your brand. This is truer if the website from where you copied content happens to be a bigger brand (in turn hinting that it is you who are a copier and not vice versa).
Monetary Loss
Specifically for coupon websites, there are few stores/merchants who track sales on the basis of exclusive coupon codes distributed. Recreating such offers on your website will result in loss of affiliate sales even if you replace them with your affiliate links.
There is no other way to avoid these challenges but to have authentic content. Scrapped, copied and pirated writings are bound to create problems.
How LinkMyDeals works to give you Original & Unique Coupon Feeds
Affiliate websites rely heavily on Search Engines. Replicating offers directly from Online Stores, Affiliate Networks or competing websites puts you under the risk of duplicate content with other Coupon/Cashback websites. At LinkMyDeals, we maintain up to 100 variants for the same voucher, & randomly include them into client's feeds. Thus guaranteeing unique feed for each client each & every time. As an added advantage, we insert few keywords too to naturally rank your coupon content.
You may find it cheaper to just copy the coupons, but Google and Bing are smart enough to identify, even if you spin the content. So always be original.
To know more about our services do visit our website or write to us at contact@linkmydeals.com.