Hey Guys! Do you have some free time after office hours? If yes, today I'm going to show you how you can make some extra bucks with minimum efforts. I've seen a lot of business models for passive income, but they usually phase-out and the income goes down after a few years. But one particular model that has been going on since years now, is a "Coupon Website". It is a solid business and you can safely invest your time (and some money) into this with minimum risks.
Business Model of a Coupon Website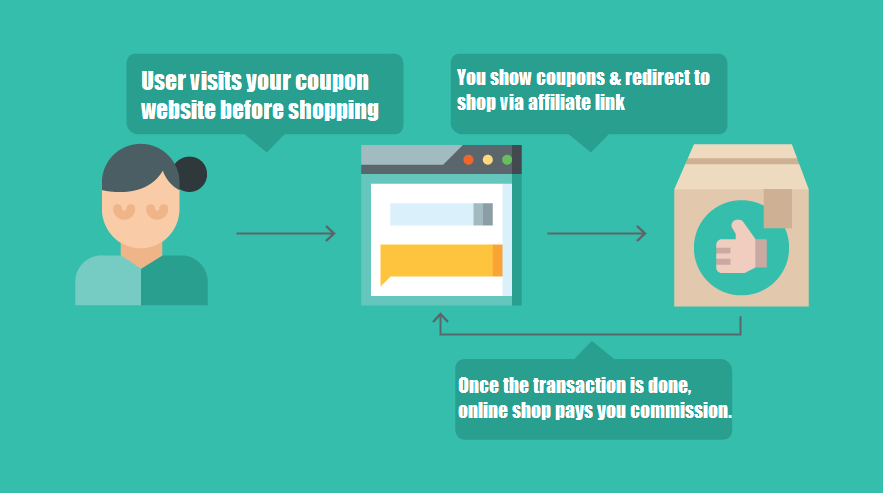 A coupon website earns through 'affiliate marketing' – wherein the merchant from where the user shops, pays the coupon website certain amount of pre-decided commission for referring the sale.
Tracking of any such payable transaction happens using 'Affiliate URL/Link'. An affiliate URL looks similar to any other URL except that it has information encoded in it related to the referrer (in this case coupon website). Such a URL is usually opened up when you click on button which reveals coupon code/deal on a coupon website; and it redirects you to the store's page where the coupon is applicable. Information encoded in an affiliate URL is stored by browsers using cookies and helps collect various data points such as:
Time of click
Details of referrer
Unique ID of user of a cashback websites
And much more
This ways, unlike an ecommerce website, a coupon website doesn't have to:
Maintain stock.
Arrange packaging.
Pay for shipping.
Give pre-sales and after-sales support.
Yet it earns out of each transaction they refer online. In many cases this earning is more that net earning of e-commerce stores themselves.
Further, there is a psychological reason why people like to buy items that are on sale or items that have discounts. 'Coupon' is a perfect way to reach that audience and to allow them to purchase something they want while also saving money in the process.
On the other hand, the store/merchant pays an "affiliate commission" to the coupon website when their referred user completes an action – in most cases makes a purchase. So unlike other advertising methods where store/merchant takes a risk by investing in advertisements; affiliate marketing is risk free for them.
This is the reason why this is an outstanding business choice. It can turn into a massively profitable venture. All you need is to ensure that you can create a solid system that allows you to focus on bringing in traffic that is craving for those discounts and special deals. Once you can get the ball rolling, the business pretty much runs itself due to the variety of coupon discounts available.
The need for Cashbacks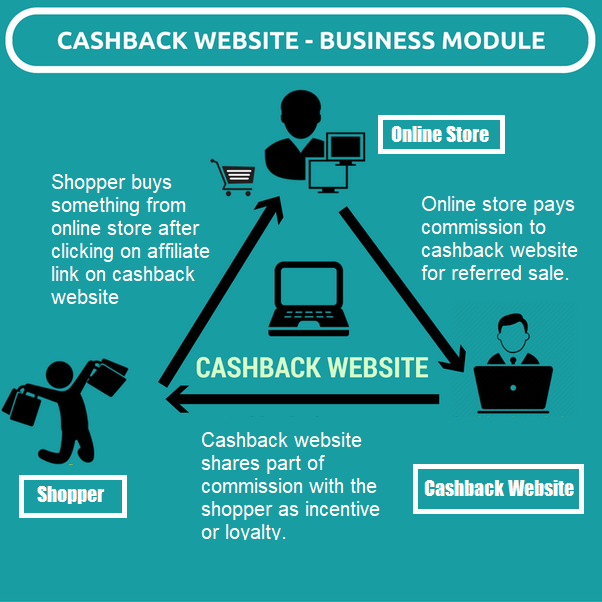 Since coupon websites are already a lucrative segment of affiliate marketing, more and more coupon websites have poped-up in the recent years. Some of these are monotonous and are finding it difficult to generate loyal visitors. So, to increase brand recollection and thereby returning visitors, one of the most immediate extensions to a coupon website is to offer cashback on every purchase.
In a cashback model, the website shares a percentage of their income with the end-user. This increases loyalty since the users come back again and again to collect cashback for every purchase; until they reach a threshold which they can withdraw to their bank. Some of the famous coupon websites worldwide who have extended their offering with cashback are rakuten.com, cashkaro.com and retailmenot.com.
Quick start with a WordPress Coupon Theme
The easiest and fastest way to start a Coupon+Cashback website is to go for a ready-to-use WordPress Theme. Now although there are too many coupon website themes, one important criteria one must look into is – how much of their code based on WordPress and how much of it is outside the WordPress framework. In other words, the theme should be 'WordPress Compliant'.
Note that when we say 'WordPress Compliant', we expect 100% of the website code to be based on WordPress – making it easy for admins to use existing plugins to customize and add functionalities to the theme. This is very important for any business.
Being able to find a solution that does not require any kind of coding or programming knowledge is essential. This is a major factor to keep in mind, as most people looking to create a new business on this niche are not going to know to run complex softwares and have specific knowledge of programming languages.
After going through hundreds of theme documentations and spending hours online chatting with sales agents of various themes, I found ClipMyDeals Coupon Theme to be a perfect match. The ClipMyDeals theme has proven to be an extremely stable choice that has no conflict issues with popular and useful plugins, browsers or user configurations. This has always been a serious problem with many great themes, but they lack that one factor of reliability when it comes to how compatible they are. Such a thing can force someone to stop using a theme even if it meets all other requirements. This theme has been designed and coded by professionals that have ensured remarkably high quality in the theme's design.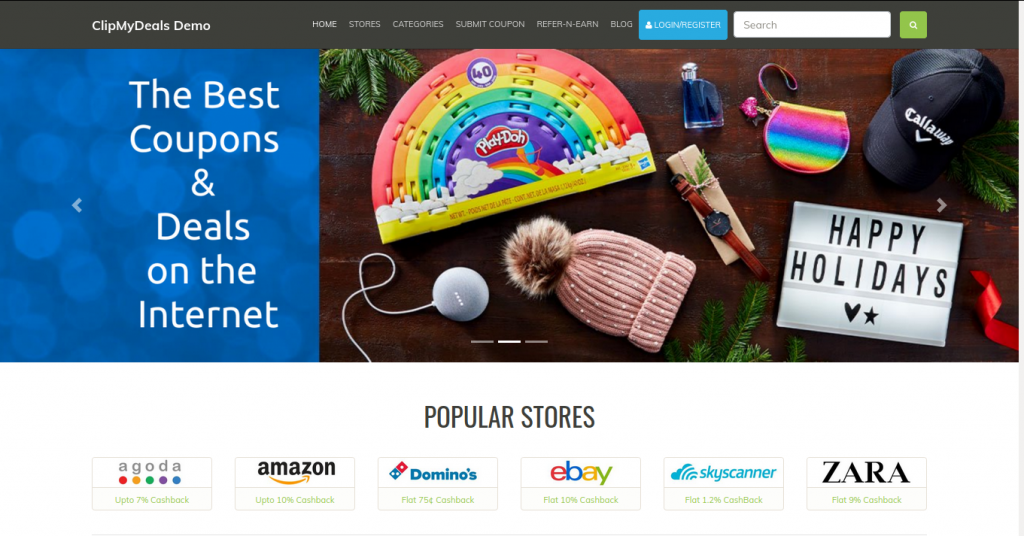 Apart from being the only fully WordPress coupon theme extendable by a cashback plugin, ClipMyDeals has 100s of unique features which no other theme in the market has. Some of those are:
It comes with Lifetime Support.
It comes with Lifetime Free Updates.
You get a Free Android App with your Website.
You get Free CouponAPI.org Coupon Feeds for 30 days.
Unique top banner and store description features for optimal search engine optimization.
It is Social Media Optimized i.e. when you share its pages on social media, it gets shared with title, description and image as specified in the shared coupon.
Additional Features Needed to Convert a Coupon Theme into a Cashback One
So there are some more functionalities needed to run a 'coupon + cashback' website – after all running a 'coupon website' is not the same as running a 'cashback website'.
At the start of this write-up, we have briefly seen how a coupon website works and what are affiliate URLs. In this article, we are going to further have a detailed look on what all functionalities you need to run a cashback website on WordPress.
Passing logged in user's ID as a sub-id variable in affiliate URLs: For a transaction to get tracked and be mapped back to a specific user, you have to pass that specific user's ID in your affiliate URLs. This ID has to be dynamically be added as per the user who is using it. If you are planning to use ClipMyDeals cashback plugin, you simply need to use '[user]' in place of a sub-id variable within the affiliate URL. The plugin will then replace it automatically. This is very practical and it enhances the process.
Pulling of transaction data from affiliate networks: There are various ways in which a theme can pull sales data back from affiliate panels – such as APIs, Bulk CSV Upload. However, the best one is by using 'PostBack URL or Pixel'. This is because API responses and CSV formats will change from one affiliate network to others. However PostBack is universal – so it can be used in almost all countries and affiliate networks. Therefore, you got to make sure that the cashback theme you are using supports PostBack URL or Pixel.
Auto cashback calculation: With 100s of transactions floating in, you cannot be calculating cashback amounts to be displayed in reports. Make sure that the theme you are choosing has the functionality to add percentage-based or even flat amount based formulae for every merchant you are offering cashback on.
Dashboard for users and admin to see details of each transaction: As a cashback website, you must have reports for your users to see. This should bare minimum include details of each click user makes and the transactions that have been recorded. It is extremely important here for you to have your user logins on WordPress because that gives you immense flexibility. Such as that of using WordPress plugins to:

Customize user panel (see plugin Aquila).
Adding social login options.
Customizing user data fields.
And much more.

Option to keep track on payment status: As your user's increase, you may find it difficult to keep a record of transaction and payment statuses. Classifying each transaction based on these statuses will help you organize your payout tasks and you will know exactly what are the upcoming payments. A good cashback will have at least below status types for each sale and payout:
Option to Store & Export Payment Details: Unfortunately there is no one payment gateway or wallet operating world-wide. So better themes like ClipMyDeals give users options to store their bank & wallet details which you may then bulk export and re-organize to match your bank's import format. The issue of payments is still quite present due to the lack of payment systems available on a global basis, but this is one of the best options to get through that hurdle.
With ClipMyDeals, you get all of those functionalities with many other benefits that are optimal for both visitors and users. This theme takes every aspect of the coupon site to a whole new level of efficiency and this makes it a truly unique choice that is unavailable anywhere else.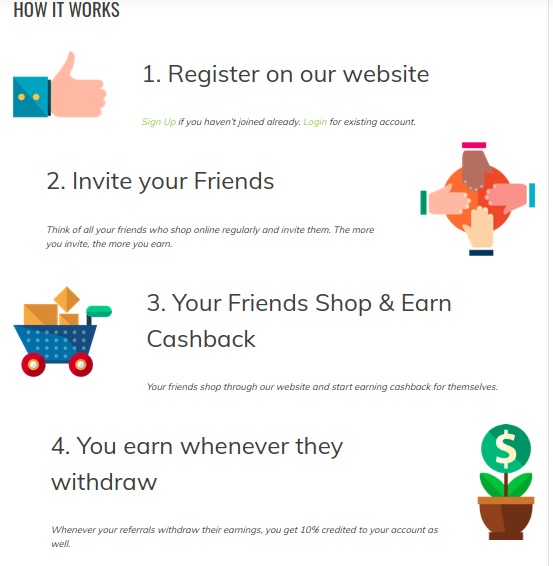 Understanding a Cashback Website From User Perspective
You could have the most powerful and reliable solution for admins, but it won't be a success if you don't have an intuitive and engaging proposition for your visitors. In this section, we will list features you will need to enhance the usability of your website. It will also clarify why I found Clipmydeals theme to be the best in all.
Option For Printable Coupons for Offline Use: While its good to have coupon business online, offline market too has immense potential when you have genuine visitors. Speaking of ClipMyDeals, they have special printable coupons options where a bar code is automatically generated for redemption.
Clear & Legible Cashback Messages: Cashback messages on your front end must stand out to entice users. The detailed cashback messages and the large banners on each page makes the theme optimal for sales and it gives the administrator the tools they need to engage their visitors and boost conversions.
Custom Coloring Options: Your theme must have ability to customize colors. Matching primary color of each store on their respective pages helps establish authenticity. This is also more important than it seems because it gives people the chance to spot anything that is of their interest just by looking at a particular color. On the theme level, ClipMyDeals has more than 25 preset color options to choose from.
Social Media Optimization: Any theme must be social media optimized i.e. it must populate images, headings and descriptions correctly when shared on social media.
Responsive Pages: With growing number of devices we also have several different screen sizes. So your website must be fully responsive to ensure that mobile users get the best browsing experience as they search for their coupons. This is essential when so many visitors are going to be using smartphones to look into this kind of website.
Cashback Engagement Features: In ClipMyDeals, users can find bonuses for joining, referral systems, transactions records, payment history charts, earning reports, profile management and dashboard stats. This makes the entire experience more pleasant and reliable.
My Experience while Setting-Up Cashback Website with ClipMyDeals
Admins are not going to have a hard time making proper use of this theme thanks to the many advantages that it offers. The Free mobile app option is going to make this even easier as admins the app works in complete sync with website. Whatever changes you make on website, will automatically reflect in app too.
It may sound like an exaggeration, but this theme allows anyone to set up a fully functional coupon + cashback website within a few hours. This theme has outstanding payout management and auto-import cashback transaction features that are truly unique and useful. The ease of use and ease of installation that this theme offers is unrivalled and this makes it a truly outstanding option for those who seek to achieve the best results.
The admin is also going to be able to share offers to social media such as Facebook and Twitter directly from the admin panel and this is a great way to save time. You also avoid having to log into those platforms to publish something related to coupon deals. With time being so essential for success, this is a most welcome feature that can make any marketing strategy more productive and engaging.
The theme can be tweaked easily with widget & plugins. It is Woocommerce compatible, Visual Composer compatible, Elementor page builder compatible and translation ready. This is the kind of flexibility that is needed when the admin has no coding knowledge and is unable to make changes to the CSS, HTML or PHP code to design the site as they want it to look.
Final Thoughts
In a world where we have ever growing needs, it is a good idea to have a passive income. Owning a cashback website not only allows you, your friends and your family to save money on online purchases but also helps a good monthly income when you are able to successfully refer external users. And all of this has never been easier for non-technical people like me. By using ready-to-deploy theme like ClipMyDeals, I have been able to make my side-income a near main income. ClipMyDeals is an extremely powerful WordPress theme that is going to allow anyone to create a solid coupon and cashback online business with ease.
Lastly, it's very important to understand the market and chase every opportunity to achieve the best possible results once you have published your website. Once you are up and running, there are two main tasks to do:
Get new users
Get new stores listed
There are ways to get that done faster, may be I would write on those soon…